how to get to Nusa Lembongan
Nusa Lembongan is the most developed of the three Nusas (Lembongan, Ceningan and Penida), at least in terms of tourism - although things are changing rapidly with the boom and rapid growth of Nusa Penida.
Getting to Nusa Lembongan is quite simple, although it unavoidably means you'll be getting into a boat. There are several boat companies operating from Bali and most of them will depart from the port in Sanur - located east of Seminyak. You can take a taxi (or Gojek), or even drive there in your scooter and leave it in the parking.
Even in these odd times, we would recommend you to book your ticket in advance - just for safety. For better rates book a return ticket. You can even get an open ticket in case you don't know how long you'll be staying there. We got our tickets with D'Camel Fast Ferry and we were very satisfied with the service.
Boats going to Nusa Lembongan will dock in either Mushroom Bay or in Jungutbatu. but I believe it is most likely that you'll land in the latter. Once there you'll be greeted by locals trying to set you up with scooters or to get you a ride home. In our case, the boat ticket already included transfer in Lembongan so we just had to find our driver. However, if you're looking for a scooter you might find a better rate if you book in advance. At this point, we can only recommend our go to guy in the island - Wayan. He is a certified surf instructor, but he can help you with anything, including setting you up with a scooter. Just don't forget to ask him for the friend's discount.
How to move around in Nusa Lembongan
Nusa Lembongan is a very small island. You can even walk all around it in a couple of hours - so you can either rent a scooter, a bike or use your legs. Roads are in good condition, but they are a bit narrow so we don't recommend getting a car here - just like any other part of Bali.
Wayan from the Newbro will be able to sort out a scooter for you, or maybe even a bike. He can also arrange a guide for you if you want some local knowledge to get you to secret spots.
Where to stay in Nusa Lembongan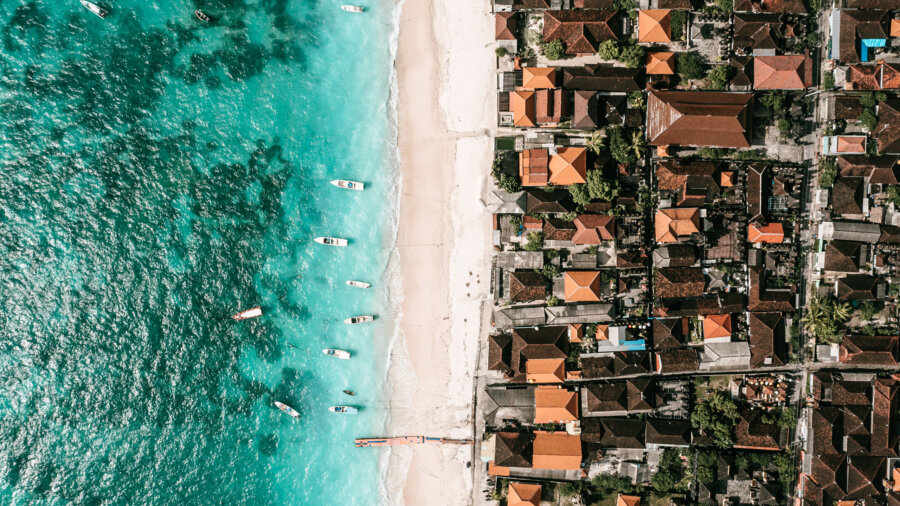 We experienced Nusa Lembongan in the times of COVID, when most of the accommodations in Lembongan where closed. We also moved there for a month, so it made more sense to find a monthly rental than to move around the island paying daily rates.
We will not pretend to know all the spots in the island, but we can tell you where to look for. Plus we're really aiming to get back soon to update this guide when we're over the pandemic.
Jungutbatu - Beach with small town-vibes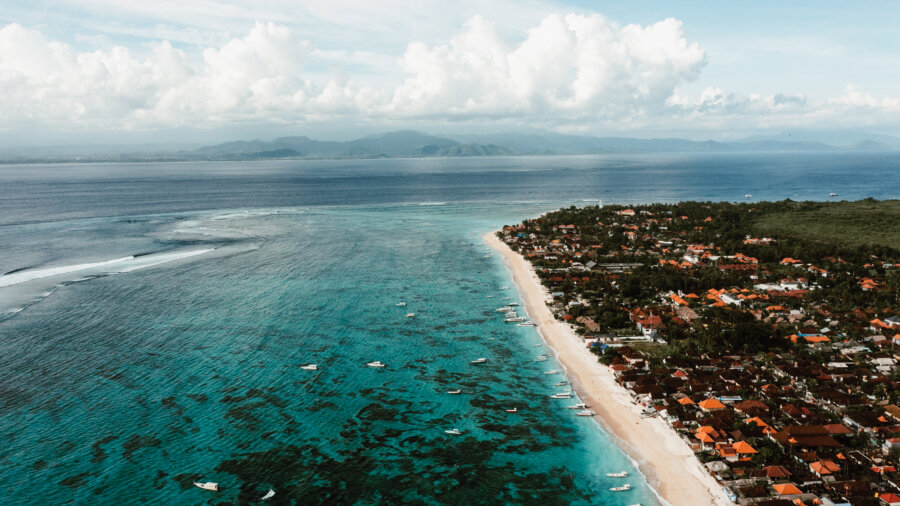 This is the most vibrant area in town and, for us, the best beach. Most of the good restaurants are here, many of them by the beach and you can also find a good amount of shops here as well. There's also accommodations here for all the budgets
By the Deck - For the views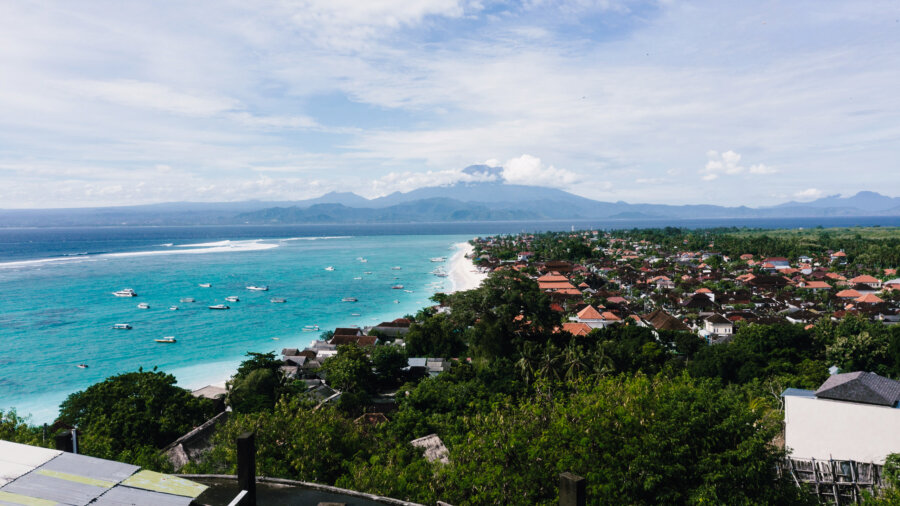 This area does't have a proper name, but it is up the hill overlooking Jungutbatu and facing the Mt. Agung. It is definitely the best view in Nusa Lembongan and one of our favorite views in the entire Bali.
This is the area that was hit the most by COVID and everything here was closed when we visited - but it seems like there are good accommodations here as well as budget friendly.
Sandy Bay/Sunset beach - For the escape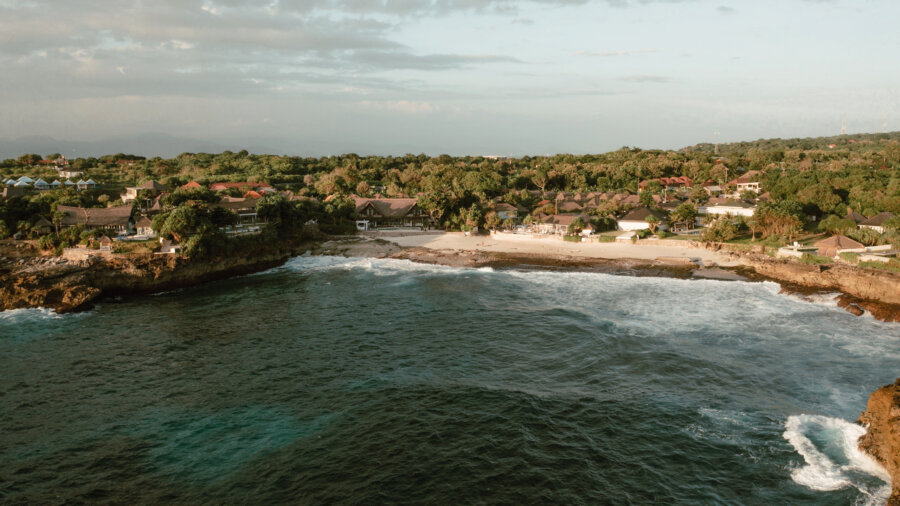 We stayed close to Sandy Bay beach and we fell in love with this area. It is on the eastern side of the island, facing sunset and it is more rocky and cliffy. Beaches in these area are all beautiful, but not swimmable due to the strong currents. But the displays of the strength of the water as it hits the cliffs is memorable - we never got tired of it.
Since these beaches are not quite for everyone, they tend to be much quieter and with only few restaurants. Accommodations here seem to be a bit more luxurious.
How expensive is Nusa Lembongan
We didn't find Nusa Lembongan to be particularly expensive. Prices for accommodations are comparable to Bali mainland, so are the costs for scooter rentals.
Being a small island, everything that you find in Lembongan gets delivered by boat - most likely the same boats taking passengers. So there is noticeable price difference when going to restaurants or even doing groceries - which goes up to 50% for most restaurants, but even so it is still pretty affordable!
There is also an expansion project in the Nusas to make everything more accessible. This includes a larger pier being built in Nusa Ceningan to allow bigger ships in the island an a better bridge to allow transportation of goods between Ceningan and Lembongan.
What to do in Nusa Lembongan
Nusa Lembongan is only about 8 km2 in area, yet it offers plenty of activities to keep you entertained for a while - we loved our time there and after a month we felt like we still weren't ready to leave. And that was during the pandemic where most of the venues where either closed or operating with reduced timings.
Talking to locals and residents we did manage to get an image of the island prior to COVID - and it is pretty different. Nusa Lembongan sees lots of visitors, especially during high season - meaning that tour operators are generally pretty busy and people might find themselves queueing for a table in the busier restaurants. But regardless of this picture, activities in the island won't change and we made a list for you.
The Beaches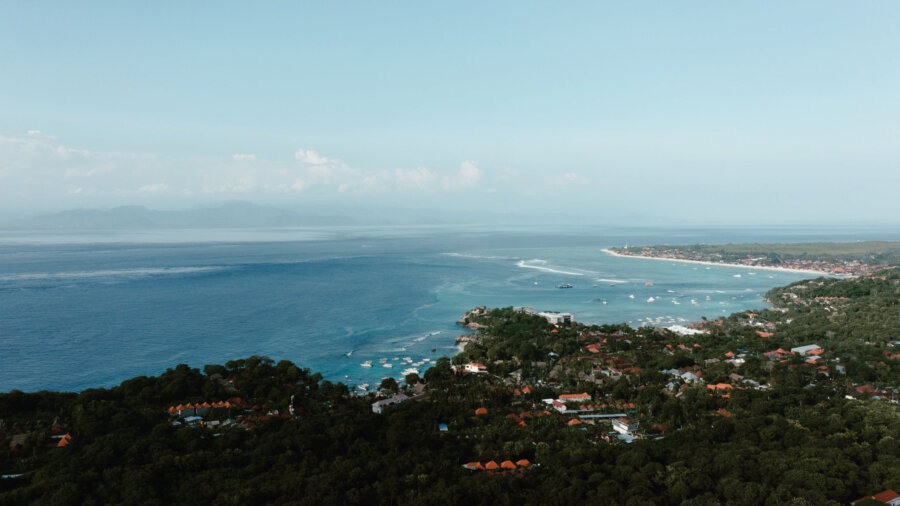 You come to Nusa Lembongan for the island life - and it has to include beach days. But how is the quality of beaches in Nusa Lembongan?
We went around the entire island rating beaches and looking for the best ones. In fact, we did an entire video about them and it would really mean the world to us if you find the time to watch it. But if you can't we still have you covered.
Even though Nusa Lembongan is an island full of beaches, we found it challenging to find the perfect one for a traditional beach day. They are either too rocky, or with strong currents or the sand is too rough on the feet. True, our standards are pretty high but maybe that qualifies us to rate them.
Jungut Batu - Vibrant, beautiful and perfect for swimming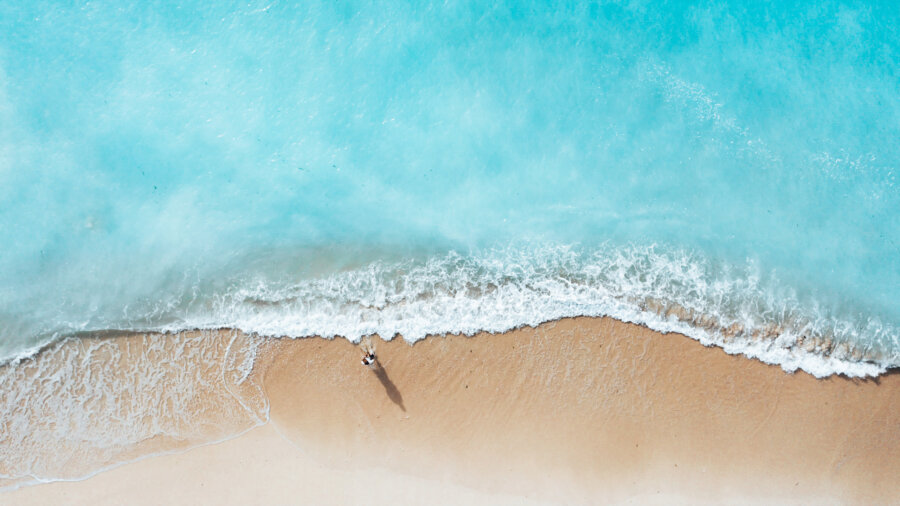 This turned out to be the best choice for a perfect beach day. It has lots of venues by the beach, the currents aren't too strong and the sand is just about good enough. We also love the views to Mt. Agung from this beach.
This is a really long stretch beach, so even though boats dock here there is plenty of space for swimmers. You won't even notice them. The northern end of this beach is referred to as Mahagiri beach because of the resort with the same name. It is the best spot for a beach day, but the resort there is currently closed and there isn't much life there now.
Mushroom Bay Beach - For the views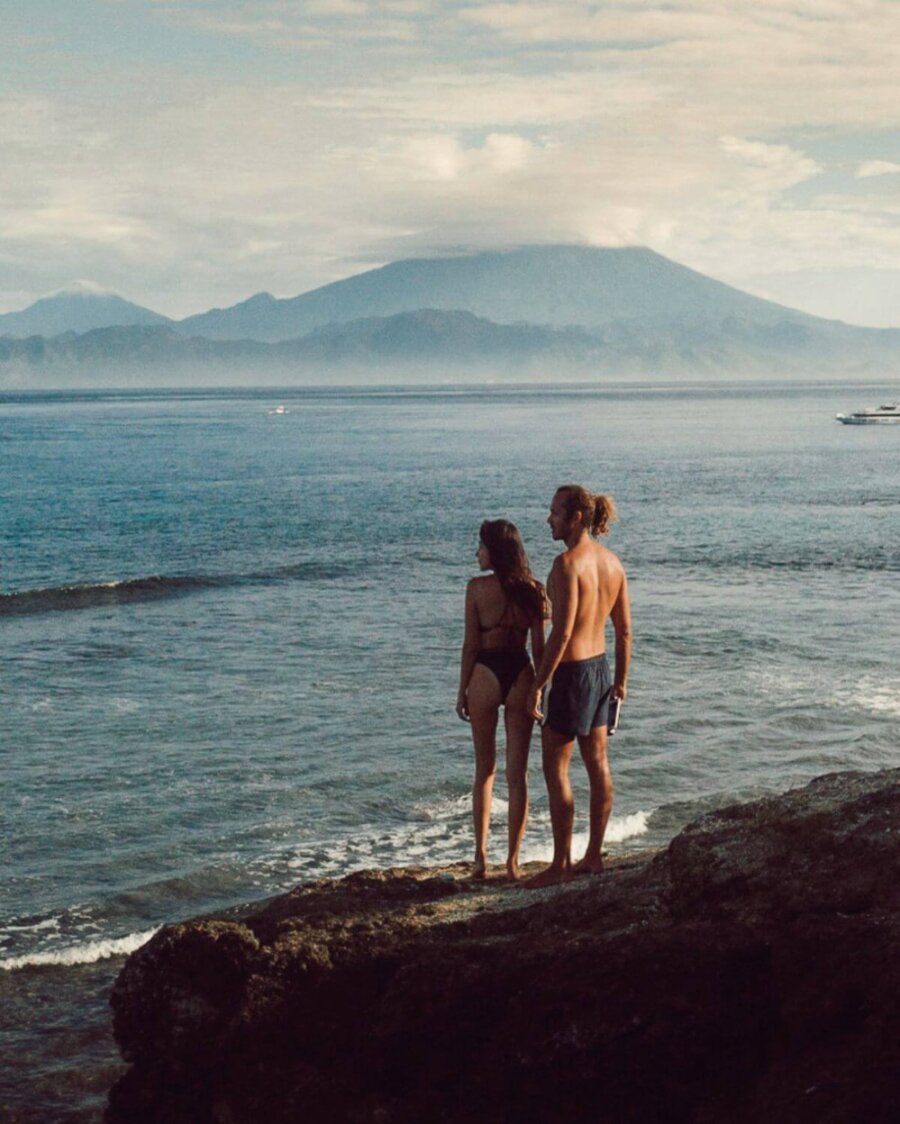 This beach really displays beautiful colors due to the rocky bottom. Sadly it is full of boats and we didn't quite like it as a beach-place. There is a cliff on the north end of the beach with a small opening - you can walk through it during low tide to access secret beach, which is much quieter. You can also drive there directly.
You can also get to the top of that cliff to enjoy magnificent views - this is our secret place. Make sure you bring mosquito repellent.
Dream Beach - Our favorite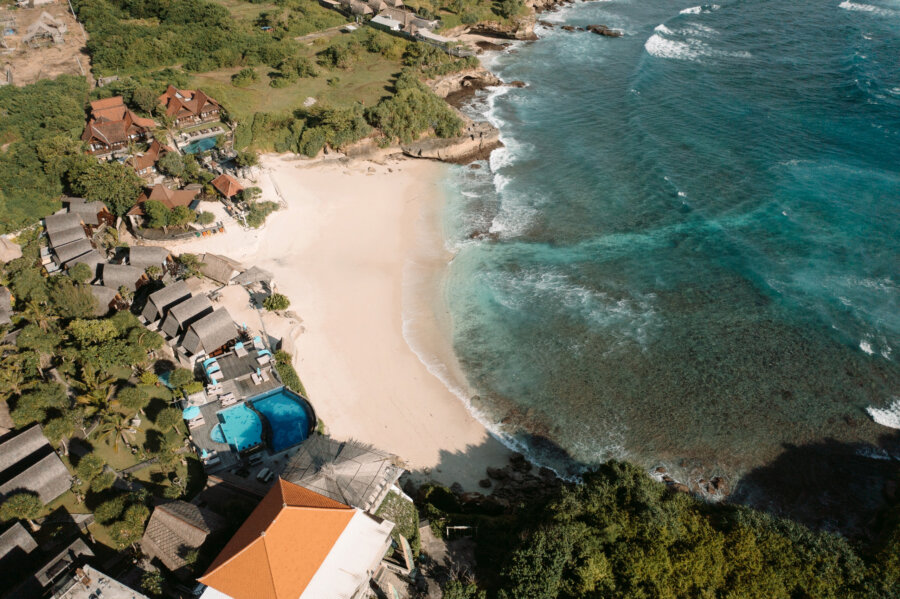 Dream beach is located on the western side of the island and is a good spot to watch sunset. It is also right next to Devil's Tear, so it is a must stop before heading there.
All beaches on this side aren't considered swimmable because of the very strong currents. They are also very rocky. But we still consider this beach the best one in the island, just because of it's raw beauty.
The sand is just white and perfect on the feet and the beach is protected on both sides by cliffs. Plus the colors in the water are out of this world.
Sandy Bay Beach - Best for sunsets & cocktails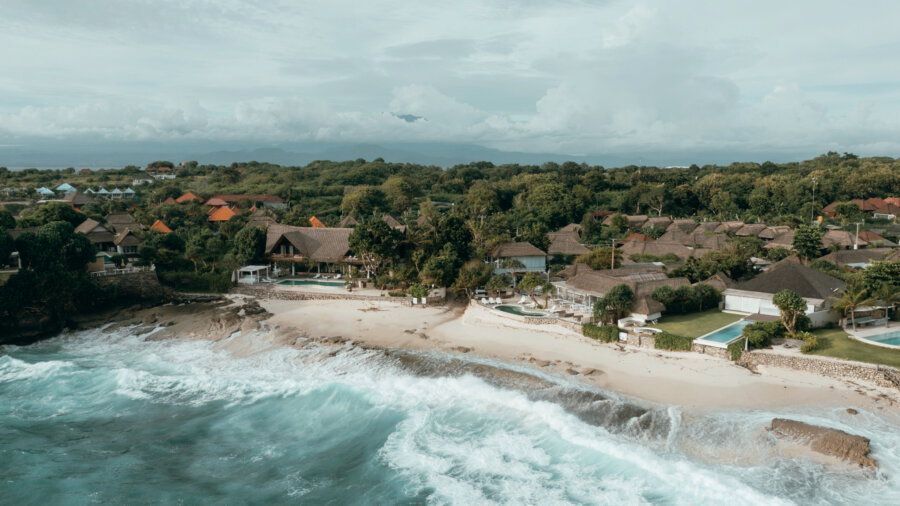 Sandy Bay Beach is next to Dream Beach, on the other side of Devil's Tear. This beach is perfect to watch the water splashes from Devil's Tear without having to go there. It is also great for sunsets.
This beach is famous because of Sandy Bay Beach Club, which is a great venue with some of the best vegan Tacos in Bali!
Song Lambung Beach - Our surprise finding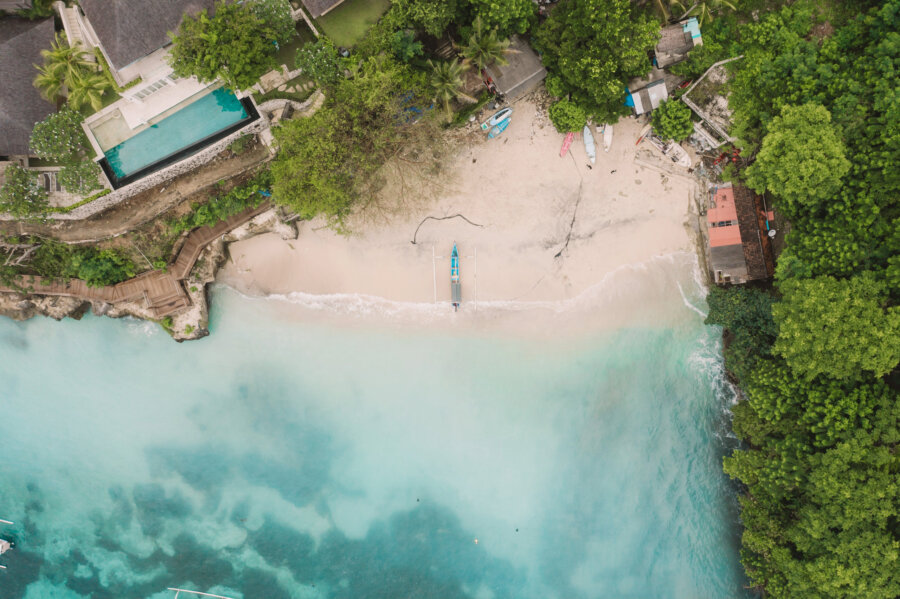 This is a very small beach located between Jungut Batu and Tamarind Beach. You can access it only by foot from Jungut Batu, if you follow the path that takes you to the famous Deck (the venue).
It is a beautiful beach, with probably the best sand in the entire island, a great view and soft waters perfect to swim and enjoy a beach day. Only disadvantage? Well, there is nothing there so you really need to bring everything there. Maybe in normal times you can walk to one of the restaurants to get food and drinks and head back to this incredible beach.
Tamarind Beach

We put Tamarind Beach last because it is the beach we liked the least. Very rocky, very short and to date not much to do there.
The Surf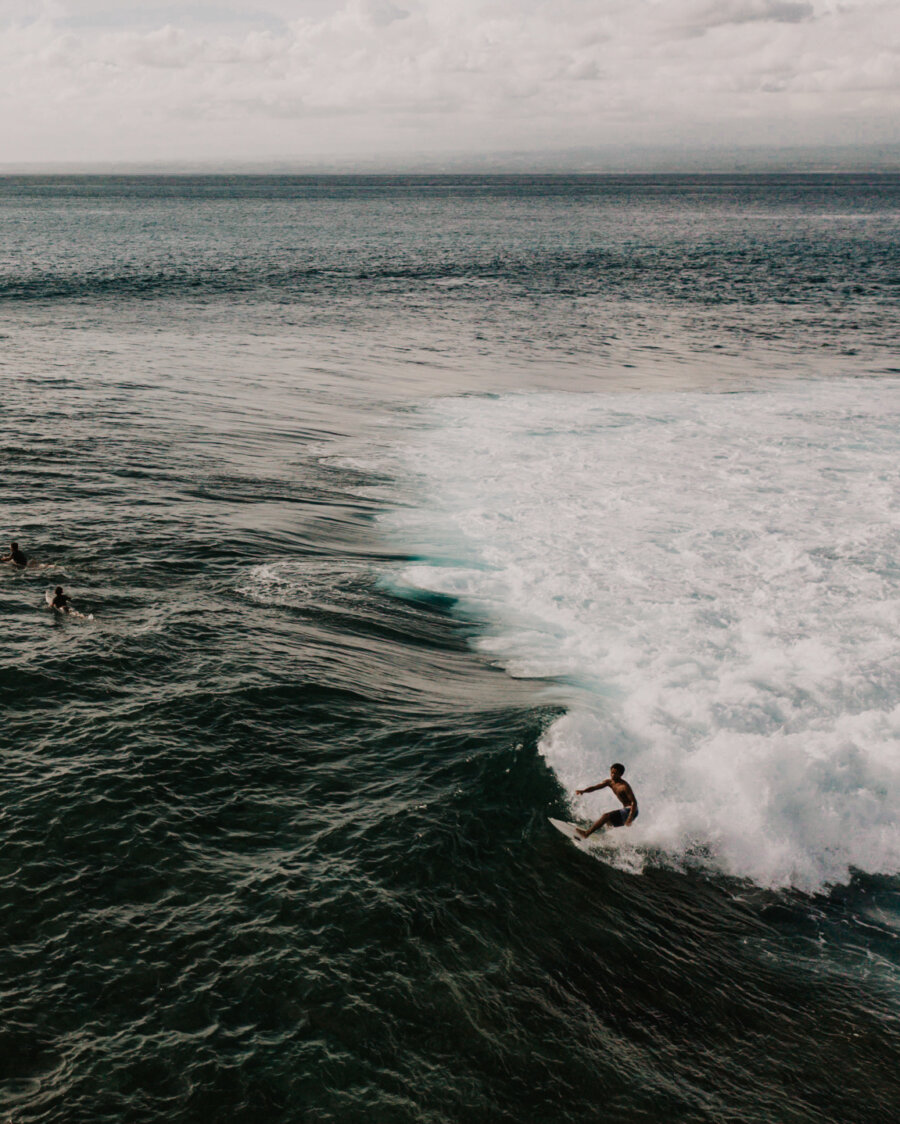 We came to Nusa Lembonan thnking that it wasn't the season to surf - we were wrong! We quickly found out that Nusa Lembongan is good for surfing all year round. It also has great waves, as well as descent ones for beginners.
We loved learning to surf here. It has great views to Bali and Mt. Agung, the waters are crystal clear. We also loved having to take a boat to get to the waves - it somehow makes the experience more enjoyable. But the highlight for us was our instructor Wayan from the Newbro.
Wayan was the perfect instructor for us: Patient, energetic and fun. He always made sure we were on the right mindset and, more importantly, that we were ready to face the waves.
We also tried surfing with Agus from TSL. He was also very good and has lots of charisma - his style is more to let you figure things out as you go.
There are a total of 3 surf breaks in Nusa Lembongan (Playgrounds, Lacerations, and Shipwrecks), plus some others for the right swell. There is also another break in Nusa Ceningan by Secret Point Beach .
We made a YouTube video about surfing in Nusa Lembongan, we'd love if you can find the time to watch it.
The Marine Life

Nusa Lembongan has some snorkeling spots wort considering. The most famous one is on the mangroves, which is a reservation area displaying colorful corals and fishes. However, if you are thinking about snorkeling we can only recommend snorkeling with the mantas. Truth, this is a highlight of Nusa Penida, but you can definitely do it from Nusa Lembongan and it might even be better.

We never thought that this experience would be so incredible - sure we love snorkeling but this seemed sort of a tourist trap. Well, it really was mind blowing. Definitely our best snorkeling experience so far.

The manta rays are generally swimming around Manta Bay, on the northern western of Nusa Penida - very close to Broken Beach. The tours will depart from the Yellow Bridge in Nusa Lembongan (or Nusa Ceningan) and it will take you about 15-20 minutes to get to Manta Bay by boat. Wayan from the Newbro can arrange a trip for you.

Once there, it is time to look for the manta rays. As any other experience in nature involving animal sightings, there are no guarantees that you will find them - but it is very likely. No skills are required for this experience, not even experience with snorkeling.

The mantas are generally swimming close to the surface and can be spotted even from the boat. Although being able to get underwater will help you getting closer - and to get better footage!

We made a YouTube video about this experience and it is one of our favorites. We would really appreciate if you watch it, plus it'll help you decide whether this is something for you or not!
Other Spots worth visiting
Devil's Tear
Definitely an incredible spot - and a magnificent one if you get the timing right. Devil's Tear is a cliff facing the western waters in Nusa Lembongan. It is located between Dream Bach and Sandy Bay Beach and it is the best spot to watch the sunset, if you don't mind the crowds.
The highlight of this spot is the splashes of water as the waves hit the rocks in the cliff. This is when timing is crucial - depending on the tides, swell, currents and winds the splashes vary from a couple of meters to up to 20 meters. It is a beautiful display of nature and definitely worth a visit.
The Viewpoint
This is a short stop and one that you can't miss. The viewpoint is located on the main road between Jungut Batu and Mushroom Bay. It is the perfect spot to look out for Mt. Agung when it decides to show up.
We passed by every morning on our way to Ombak Zero Waste Cafe, and every time we looked left to decide whether we should stop for a couple of minutes or just keep driving.
The Mangroves
This is a conservation area on the northern east side of Nusa Lembongan. Snorkeling here is recommended and there is also rentals for SUP and kayaks.
Daytrip to Nusa Ceningan

Nusa Ceningan is the perfect sister to Nusa Lembonga - just as beautiful, but somehow different. It is definitely the quieter of the two, it is much smaller, it has smaller beaches, it is less developed and somehow it has more of the island vibe, at least for us.

Going to Nusa Ceningan won't take you too long - probably 15 minutes from the port in Jungut Batu and it is definitely worth a visit - or two. It has definitely a couple of sights to make you go. Sadly, it has gotten very quiet during COVID but we can tell it gets very vibrant during high season.

We made a whole video about Nusa Ceningan, which we absolutely recommend you to watch. Plus it will mean the world to us.
The Yellow Bridge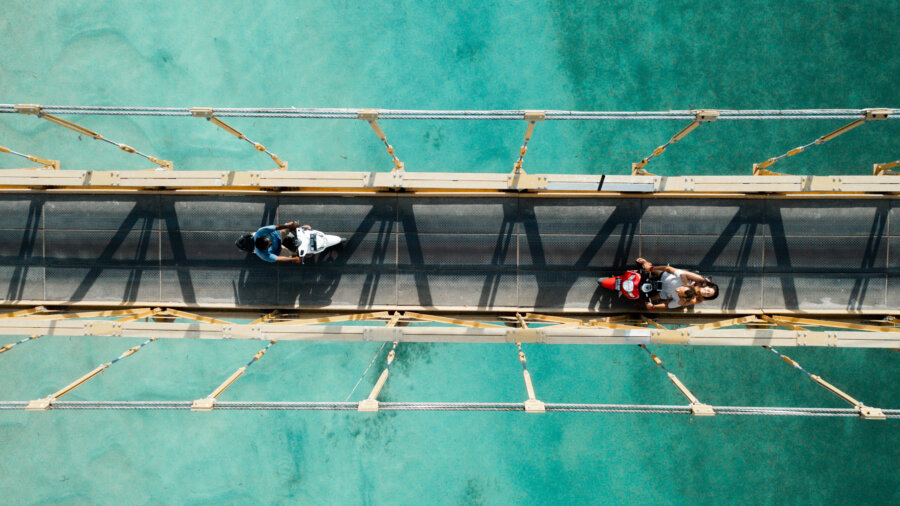 Sure, this is actually a sighting of both Nusas as it connects them - we made the random choice of adding it here since you'll definitely spot it on your way to Nusa Ceningan.
The Yellow Bridge is actually a fun crossing as it is too narrow for cars to cross. It is also a beautiful spot to look out for the colors in the water - plus it makes for a great drone shot.
The Blue Lagoon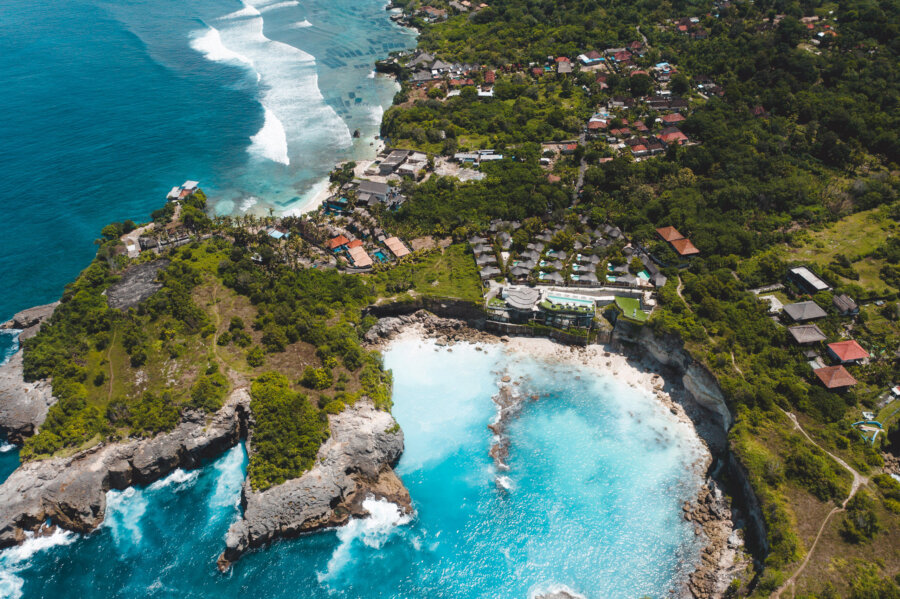 This is probably one of the most beautiful spots in the three Nusas. There is something in the color of these waters that just makes everyone go wow - it is not surprising that it is the most famous instagram spot in Nusa Ceningan.
There is a venue here that is perfect for some sunset drinks as well, but if you're more into raw nature there is also a spot for you. Just drive pass the hotel and look out for a pathway on the left. You can also walk to the cliffs on both ends of the lagoon if you're planning a more adventurous visit. However, note that this is not a spot for cliff jumping anymore so don't try it!
Secret Point Beach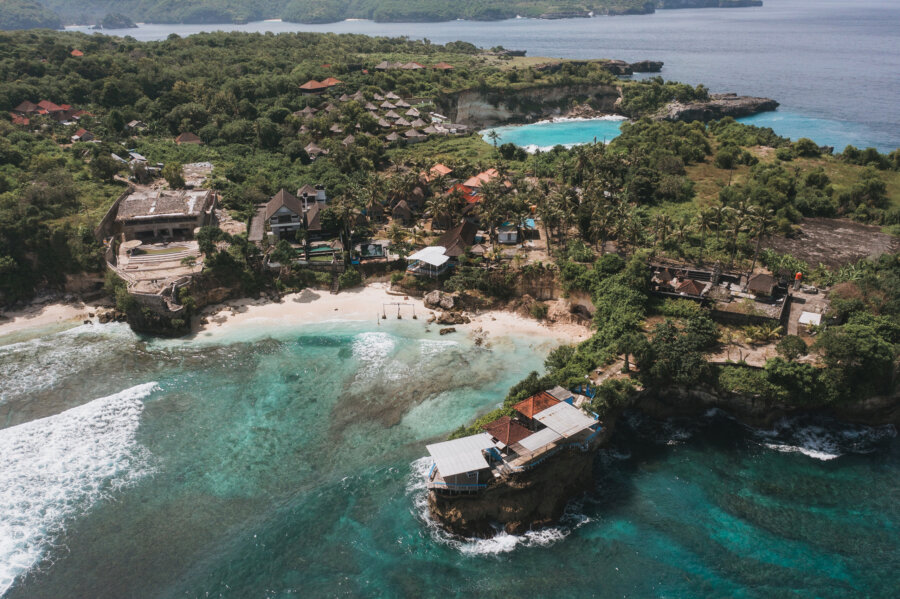 For us this is the best beach of both Nusas (Nusa Penida is in another league). It is very close to the Blue Lagoon.
The sand here is incredible and it is perfect enough to stay the entire day - plus it has amazing waves for the surfers. There is also a very famous cliff jump next to it.
Secret Beach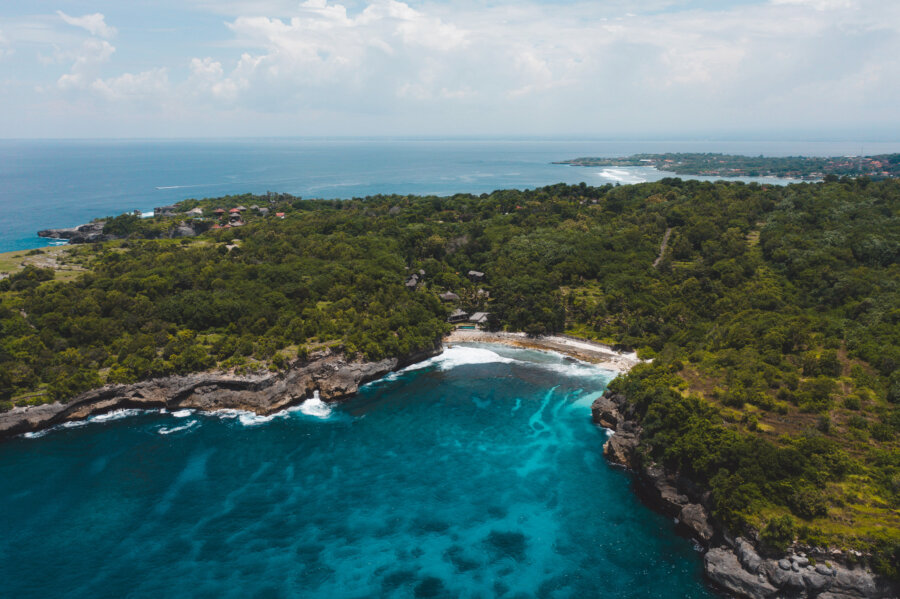 We only recommend this beach to those looking for a secret escape, far away from the crowds. It is not our favorite beach, but you won't see many people there, especially now.
This beach is completely isolated from the rest of Nusa Ceningan and it faces the south with Nusa Penida on the back. The sea is quite rocky, with strong currents and waves but the vibe in this beach is different unique.
If you plan to drive your scooter here, know that it'll get a bit tricky on the last stretch.
The Lagoon between the islands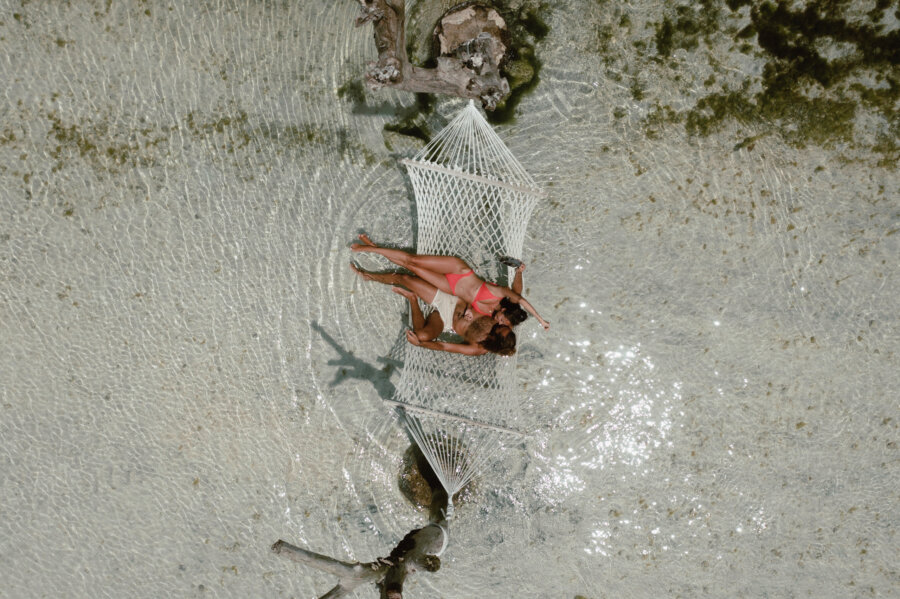 We don't think there is a particular name for the sea between Nusa Lembongan and Nusa Ceningan - but it should have one. It always has calm waters and it is very tidal!
There are lots of restaurants here, with swings and hammocks on the calm waters. It is a definite must spot for a quiet day.
Locals farm seaweed here, so you'll have the perfect spot to watch them work, plus it makes for a great drone shot.
Nusa Penida Tour

Nusa Penida is an entire different island worth at least a couple of blog posts - so we will not say much here. Just now that Nusa Penida is definitely worth a visit and that you can arrange daily tours from Nusa Lembongan. It might make sense because the quantity and especially of quality of accommodations in Nusa Penida is not a match for Nusa Lembongan. So it will be a good way to experience this beautiful island without compromising on your stay - Wayan from the Newbro can help you with that.

We actually made a couple of videos about Nusa Penida and Wayan helped us organize the trips and got us a guide.
Where to eat in Nusa Lembongan
This is the topic that will see the most updates when international tourism re-enters the island. For now, most of the venues are either closed or have reduced timings. Some of them close at specific days or times to allow for a rotation of customers between the venues, hence supporting other places.
In our month there we tried to visit and experience as much as we could, but we were quite limited by this. Some venues that we wanted to visit were completely shut while others had timings that didn't really fit with our schedule (yes, we are busier than you might think!). Anyhow, you will find a list of the places we liked the most below - note that we are vegans and even though we don't look for vegan-only places we cannot comment on other food.
Ombak Zero Waste Cafe
This is the place where we spent 25% of our time in the island - literally 6 hours a day, every day. We loved everything here: The vibe, the purpose and the internet. It was the perfect co-working space for us, next to the beach and with great coffee.
Located in Jungut Batu, we became regular customers here and, as such, we found plenty of opportunities to talk and even interview one of the owners of Ombak - Zero Waste Cafe. We fell in love with the concept of a zero waste cafe, which - as she explained - is an ideal rather than a statement since the concept of Zero Waste is quite difficult to achieve.
Indiana Kenanga
Definitely the place we visited for good sunsets when we wanted a good dinning experience - best french fries in the island, for sure. We also loved the burgers. What brought us here is for sure the location and the vibe of the place, with its beautiful interiors. Indiana Kenanga is located close to Ombak - Zero Waste Cafe in Jungut Batu.
Fin Island
This is a place that we drove by every day on our way to Ombak, but never really stopped because it looked expensive and it wasn't on the beach. But we were really wrong on the first statement.
The food here is incredibly good and the prices are quite fair. It is not easy to find such quality of vegan food in Lembongan, plus the place is truly gorgeous.
Sandy Bay Beach Club
This place was one of our favorites for the weekend (due to COVID, it was only open Fridays to Sundays) - it was also conveniently close to our accommodation.
Sandy Bay Beach Club was made for sunset drinks for sure, but you could spend the entire day here alternating between the beach and the pool. Plus the vegan Tacos are just amazing.
Nick's Place
More of a local place, this restaurant is famous for junk-food. We went there after our snorkeling trip craving just that - a good vegan burger and we definitely found it. Since we were the only customers there we were able to interact with the staff and owners and we can tell you they are very nice people, looking to provide a good service.
Mushroom Espresso
This place was on our bucket list for the entirety of our stay but we rarely visited Mushroom Bay, so we only came here once during our last week. But, the coffee might have been the best we've had during our entire time in Lembongan.
Sea Breeze
Sea Breeze is quite a famous spot and we can tell it gets super busy in high season. This place has a very unique vibe, good food and great views. Located in the calm waters of Nusa Ceningan, it has plenty of hammocks, nets and swings on the water so it makes it perfect for a day at the sea (there is no beach here!).
The Coconut Hut
To be honest, we came here looking for content for this blog but it was a positive surprise. Great music, good vibes and very good food. This place also has a Minigolf field with plenty of holes - something we normally don't look for but we tried it and we actually had lots of fun.
Klyf Club
Can't believe we discovered this place on our last week there. We were looking for the Blue Lagoon and found ourselves in this brand new venue, with great views. Definitely one of our favorite spots in the three Nusas but the prices are a bit on the higher end.
We also came here for breakfast and even though they didn't have vegan options, the chef was willing to talk to us to find a proper meal.
Tips for longer stays in Nusa Lembongan
If you read this far, we've established that Nusa Lembongan is an amazing island - definitely worth a visit but how livable is this island? What about groceries, long term rentals and all those factors that arise when staying in a place for longer? As we said, we spent a month here and could've easily stayed longer - so we've got you.
Where to do groceries?
There are some compromises to be made here, but to be very honest doing groceries in Nusa Lembongan was much better than we expected. Once you know where to go, you will find enough - and worst case scenario you can order what's missing from Bali.
Our Go-To Grocery Shops
Fruits & Veggie Shop: There are some local shops in Jungut Batu along the main road. We loved a little shop shortly after the big community center on the right (when driving from Jungut Batu towards Mushroom Bay). Look for Warung Mek Doni on Google Maps.
Nick's Gourmet: This is a small shop behind Nick's Place. It has some plant based milks, canned food and sauces. It is a good place to look for more specifics.
Karang Shop: Big shop on the main road, ideal for all types of groceries. They have mostly local item, but perfect for soap, detergent and all sorts of utilities.
How to find a place?
I wish there was a better answer for this one but airbnb seems to be the place to go - also try The Lembongan Traveller, they have a collection of places for rental.
How good is the internet?
Internet in the island is good, not great but mobile signal is pretty good. I wouldn't recommend this island for nomads that require high internet speeds, but for us it was more than OK. Sure, uploading YouTube videos took a bit longer than usual but we just had to plan for it.
It seemed like the area around Jungut Batu had faster speeds.
Bringing your dog to Nusa Lembongan (Bali residents only)
One of the best parts about living in Nusa Lembongan for a month was to see our dog, Mia reach a new level of happiness. She really loved Lembongan and especially the dogs there. For some reason they are friendlier and bark much less than in Bali.
Taking our dog to Lembongan from Bali was super easy - all we needed was to pay a small fee since she is a bigger dog (50k IDR, return ticket). However, finding a pet friendly place wasn't very easy - but that's just normal in Bali. Once that is sorted, the rest will feel like Canggu and you can bring your dog anywhere.